Welcome to "Thankful Thursday!"
I have to say that I LOVE November!  Although we work on expressing thanks to God and living with a thankful heart and attitude all year long…isn't it neat that we have a whole month dedicated to focusing on giving thanks to God?!
I took a short poll on our Facebook Page and found out that there are a group of you who are interested in hearing about fun and inexpensive ways to help your families (and yourselves) focus more on giving thanks during November.  So this "Thankful Thursdays" are going to be dedicated to sharing wonderful, budget-friendly, family friendly, ideas to help us focus on celebrating Thanksgiving!  Let's celebrate giving thanks and let's share ideas and stories about how your family enjoys celebrating this special National Holiday!
Here are some of the ideas that we have used in the past with links to where I found them.  I hope you enjoy the inspiration!  Remember that they are meant to inspire you!  Not push guilt on you to make you think you need to do all of these things to celebrate Thanksgiving with your family!  You do what works for you!  I have made our own versions of some of these ideas too…but am having a hard time finding pictures of them this week!  So please enjoy the original ideas that have so inspired me!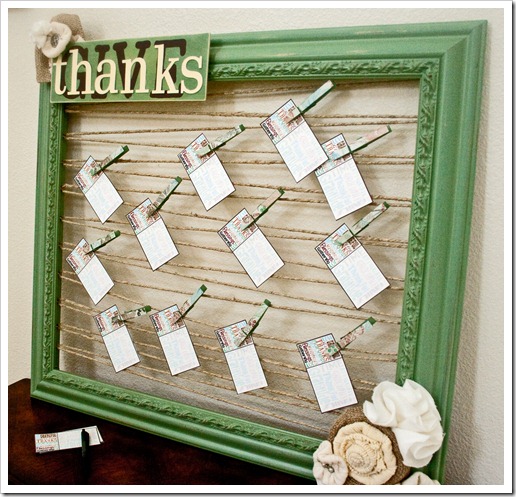 photo credit
I love this idea!!!  I found it last year on Tatertots and Jello's Guest DIY projects!  The incredible lady who created this "Thanksgiving Blessing Board" is Heather from Whipperberry!!!  You have got to check out this tutorial!  Remember you can adapt it to your own tastes and budget!  We made one last year and really enjoyed it.  We kept it simple though and didn't add the flowers.  But I just think this is SO cute and really makes sharing what we are thankful for at dinner each day very special!
photo credit
This is another wonderful idea that I just LOVE!  In fact, we are going to make our own version this weekend…at least that's my goal!  It is called the Thankful Tree and it was created by Emily Rose at Simply Vintagegirl.  This wonderfully simple project is one more favorite Thanksgiving idea that I had bookmarked from last year.  I have seen it on a few blogs this year so I must not be the only one who likes the idea!  We are going to cut out pieces of paper in cute shapes but we don't have the patterned paper so ours will be solids…and a touch larger because our eight year old has a hard time writing so small.  But I just love the way she did it and it inspires me so much!
Aren't these fun ideas?
Now it is YOUR TURN!!!
It is time to share some of your favorite ideas for Thanksgiving…if you have give thanks crafts or projects, easy ways to decorate for Thanksgiving, your favorite Thanksgiving recipes, Thanksgiving activities, Unit Studies, or stories about your family's Thanksgiving memories it is time to share!!!  
If you are a blogger be sure to share them here in the Link-up!  It is so easy!  Just click on the button and share your post and then take a moment to link your post back to this article by sharing the link for this article somewhere in or at the end of your post.  That way your readers can come and get the ideas shared here by all of us!
If you are not a blogger…we would really LOVE to hear your ideas in the comments!  I really mean that!  Please share your ideas or your favorite Thanksgiving memories or something that you are thankful for this year.
I am so thankful for all of you!!!!  God bless each of you and your families!
It would mean so much to me if you would take a second and leave a comment and spread the word about our "Thankful Thursdays" Blog Party!
More this week…
Friday   "When God Closes a Door He Opens a Window…" by Mrs Mary Joy Pershing
Saturday  "Thoughts from a Father's Heart" by Will Pershing (my sweet husband!)
Giving thanks at the foot of the Cross with my family,
Mrs Mary Joy Pershing
If you haven't subscribed to Learning to Live a Surrendered Life, I encourage you to click here and sign up for the free updates through your E-Reader or by receiving updates in your email. You can also follow us on Twitter.  And be sure to join the conversation on our Learning to Live a Surrendered Life Facebook Page.